Per segnalare concerti o richiederci una recensione delle vostre band, scriveteci compilando il modulo in questa pagina
Ci sono attualmente 0 utenti e 0 visitatori collegati.
Gio, 06/02/2020 - 20:23 |

Francesco Salvatori
Xpus from Italy are a breath of fresh air, in that they're doing the dark death metal thing without slowing down too much - these guys are surprisingly fast and intense, and rarely you'll find this kind of death metal with so much gratifying pummelling. We're also experimenting with things a bit here in India, and have announced a glow-in-the-dark effect for the Xpus digipaks. It only suits their image as that's the kind of thing they're doing live as well. Please take some time out to check out their promo that's coming your way via Haulix. In the meantime, you can check out one of the songs here on YouTube and Bandcamp.
Xpus (Italy) - In Umbra Mortis Sedent (April 24th, 2020)
Genre - Death Metal
Release Date - April 24rd, 2020
Record Label - Transcending Obscurity Records
For fans of - Verthebral, Incantation, Cruciamentum, Funebre, Fetid, Rebaelliun, Krisiun, Rottrevore, early Deicide, Centurian
Xpus from Italy are invoking the ghosts of the dark and harrowing bands that surfaced in the '90s such as Morbid Angel, Deicide, Incantation and Sinister, but obviously channeling it through their intensified, dense sound that makes it somewhat unique and frightening. There's palpable dark energy in this band's execution and none of it is blurred from chaos, rather it's brilliantly enunciated and fleshed out for maximum impact. With artwork from the acclaimed artist Misanthropic Art bringing to life their cryptic, graveyard-crawling death metal, the packaging furthermore receives a shot in the arm because of the unique and probably never before done before glow-in-the-dark effect. This is pummelling, dark death metal that doesn't nod off and makes sure its grip on you keeps tightening.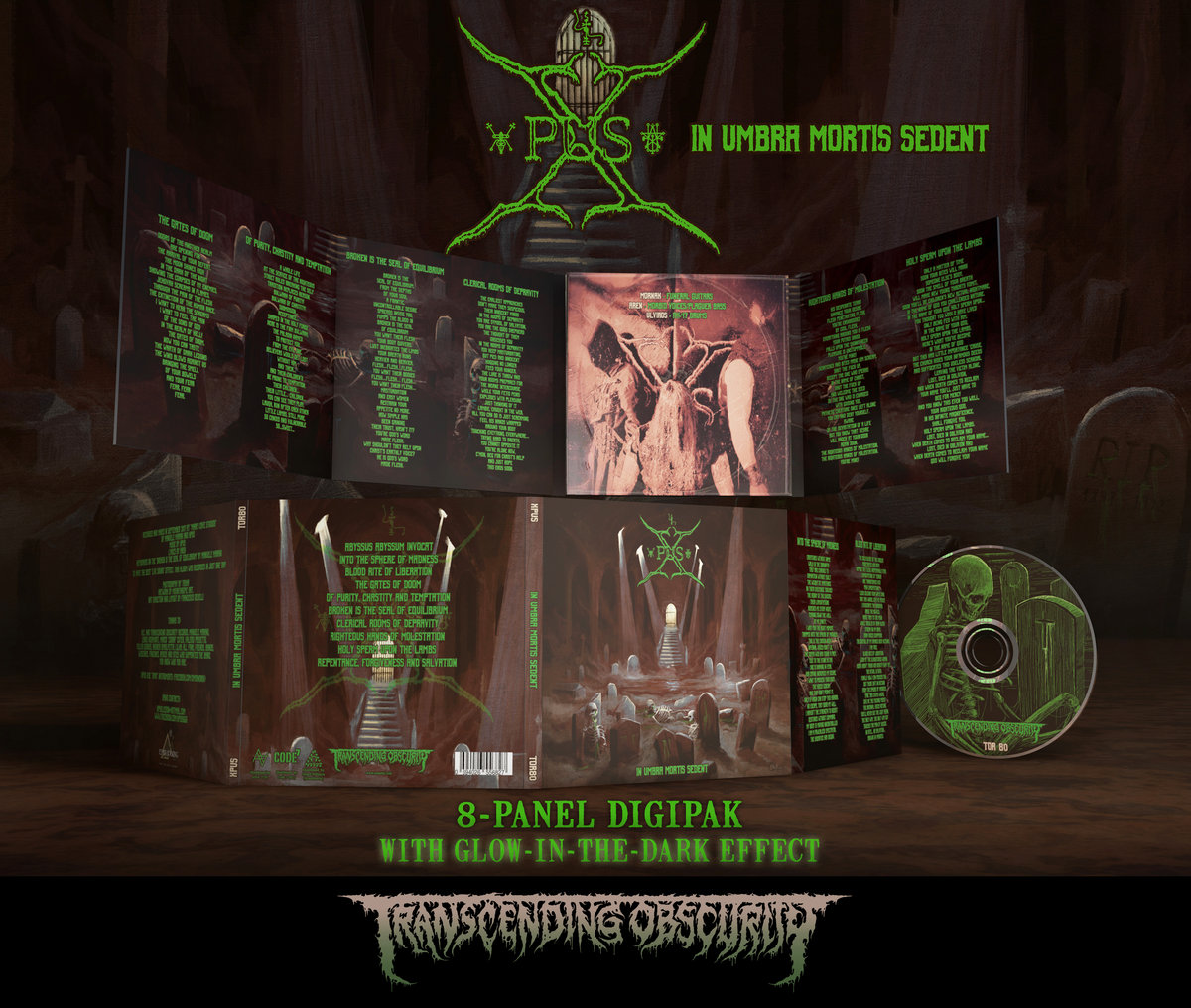 Band lineup -
Mornak - Funeral guitars
Aren - Morbid voices/plaguer bass
Ulviros - AK-47 drums
Mastered at Resonance Sound Studio (Blood Incantation, Cruciamentum)
Artwork by Misanthropic Art (Trench Warfare)
Layout by Francesco Gemelli (Towards Atlantis Lights)
Track listing -
1. Abyssus Abyssum Invocat
2. Into the Sphere of Madness
3. Blood Rite of Liberation
4. The Gates of Doom
5. Of Purity, Chastity and Temptation
6. Broken is the Seal of Equilibrium
7. Clerical Rooms of Depravity
8. Righteous Hands of Molestation
9. Holy Sperm upon the Lambs
10. Repentance, Forgiveness and Salvation
Transcending Obscurity Official YouTube Channel
Transcending Obscurity Records Facebook