Per segnalare concerti o richiederci una recensione delle vostre band, scriveteci compilando il modulo in questa pagina
Ci sono attualmente 0 utenti e 0 visitatori collegati.

Mar, 23/02/2021 - 18:53 |

Redazione IdM
Sardinia's horror doom trio 1782 unleash new single "The Chosen One"; new album 'From The Graveyard' out March 26th on Heavy Psych Sounds.
Sardinia-based harbingers of occult doom and sludge 1782 premiere a sulfur-laden new track taken from their upcoming sophomore full-length 'From The Graveyard' on Heavy Psych Sounds. Stream it now via Doomed and Stoned website!
"Surely the kind of album that would have been banished to the flames during the 1980's Satanic Panic in many a church parking lot (with a fate worse for the band centuries earlier), this haunted new eight-track testament is not for timid nor tepid. From The Graveyard is the real doom deal." describe Doomed and Stoned editors.
Descend into limbo with "The Chosen One"
1782 about this new song: "The Chosen One is the first song we wrote for our new album "From The Graveyard". It's aggressive and heartbreaking, with heavy riffs accompanied by a powerful drum line. Imagine wandering among the graves on a cold foggy night and being called by voices from far away, familiar and unknown at the same time. The only thing to do is to follow those voices and never turn around."
New album "From The Graveyard" was recorded straight after their "Doom Sessions Vol.2" release, and stands as the trio's heaviest and creepiest material to date. 1782 invited their friends Nico Sechi on Hammond organ and Alfredo Carboni on synth. Check out their previous single "Priestess Of Death" at this location.
1782 New album "From The Graveyard"
Out March 26th on Heavy Psych Sounds
European preorder // North American preorder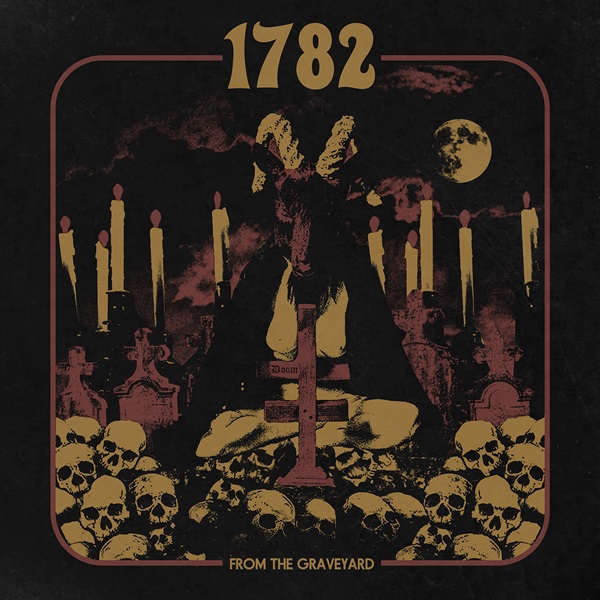 In 1782, Anna Göldi was condemned, she was tortured and killed, this was the last witchcraft trial in Europe. In 2018, Marco Nieddu and Gabriele Fancellu formed a doom band called 1782 in honor of all the "witches" murdered by bigoted minds of many generations. Soon after, the band entered the studio to record the single "She She Was A Witch", which was released through Electric Valley Records. Within a few days, the single turned out to arouse interest on social networks and among fans of the genre. In February 2019, 1782, they entered the studio to record their self-titled debut album, released through Roma-based label Heavy Psych Sounds Records. After Francesco Pintore joined the band on bass, they recorded three new songs, which were released on the split album with Acid Mammoth "Doom Sessions Vol.2". In November 2020, the band recorded their sophomore album "From The Graveyard" with Alfredo Carboni at RKS Studios in Ossi, Sardinia (Italy). It will be released on March 26th 2021 through Heavy Psych Sounds.


1782 is:
Marco Nieddu - Vocals, Guitar
Gabriele Fancellu - Drums
Francesco Pintore – Bass


1782 LINKS
Facebook⎜Bandcamp⎜Instagram

HEAVY PSYCH SOUNDS LINKS
Website⎜Facebook⎜Bandcamp⎜Instagram⎜Youtube